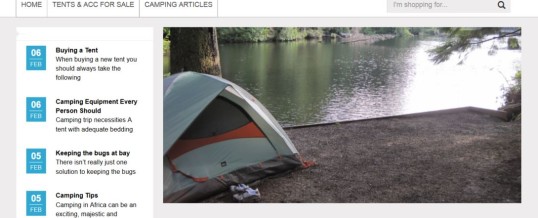 The custom WordPress theme used by http://www.campingtentsforsale.co.za/ is a clean blog look that does a great job combining their posts about camping tips with their tents for sale.  Some of the articles posted are "Buying a tent", "Camping equipment every person should own", "Keeping the bugs at bay", "Camping tips" and "Camping safety". The theme set up, clearly divides the blog from the camping equipment for sale.
The theme has three plugins installed, Aliplugin, Social Media Feather and WordPress Seo by Yoast.  Social Media Feather is said to be a lightweight and modern social media sharing and following buttons.  The social icons are said to be quick and easy to setup for this plugin.  The popular plugin by Yoast, WordPress Seo, is free to download and according to yoast.com  it is the most complete SEO plugin available for WordPress.
The Aliplugin allows AliExpress Affiliates to add thousands of AliExpress products to their WordPress website quickly and easily. The plugin creates seamless integration between the affiliate Id and the sales referred to AliExpress.
Share